A Hearty Welcome to You in our "House Aspen"
Our guest house and location will offer you peace and and relaxation, away from all the traffic noise. "House Aspen" is close to the Loisach river bank at the end of a dead-end road. In a very short walking distance you will have all the shopping possibilities and also the bus stop to get you around. You can reach the Garmisch town center of the "Marienplatz" in just a few walking minutes.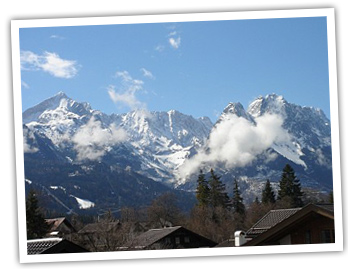 Our guest apartments are all on the sunniest side of the house with a large balcony and the most beautiful mountain view. The apartments are all furnished in the typical bavarian country style. Spacious and cozy with all its comfort.
A vacation with us means peace, relaxation and rejuvenation

Let your body, mind and soul refresh itself. Our House offers you fitness, massages, yoga, footreflex massages and cosmetic applications. Should you intend to stay on a longer vacation, you can also take advantage of a "Badekur", meaning a treatment at a mineral watering bath place.
At any tme of the year or weather you will never feel bored in our house for we offer many different sport venues and give you advice for all kind of tours in the summer or winter season. We also offer typical bavarian cooking but also a menu to your taste.
Children are very welcome

We have different types of beds for different ages, as well as many cute toys. Children naturally want to be very active and to fill their needs, swimming and a play ground is very close and parents can relax and watch them play. In the summer time you can enjoy swimming in the various mountain lakes, waterski, bike and hiking tours are all available. In the winter time there are slopes to ski and an olympic icestadium.
We also have bikes to go for a short ride. Mountainbikes and skis can be arranged. Our excellent ski-guide is glad to give you advice and join you. To get more information, please explore our website.
We look forward to welcoming you in our beautiful, bavarian, olympic city Garmisch-Partenkirchen and in our guest "House Aspen", to enjoy a very special and precious vacationtime that you will always want to remember.
Yours,